Netflix and AIB are more popular in India than Facebook and WhatsApp: Mary Meeker report
By :
CIOL Writers
|
June 1, 2017
0
While the popular conception is that social networking sites like Facebook, WhatsApp and Twitter are the biggest reason behind growing Internet usage amongst people, the reality is that it isn't networking or messaging but entertainment factor that keeps Indians glued to their mobile phones.
According to the Mary Meeker Internet Trends 2017 report, when we talk about mobile phones, Indians are spending 45 percent of their time on entertainment like Netflix, AIB, Hotstar etc and 34 percent time on search, social and messaging.
Reliance Jio's 4G rollout has ensured that on-demand mobile-optimized Internet shows are replacing linear TV programming. The weekly time spent on a mobile is 7X of the time spent on a television set. Notably, shopping takes merely 4 percent of total mobile usage time and News and Media further down only 2 percent.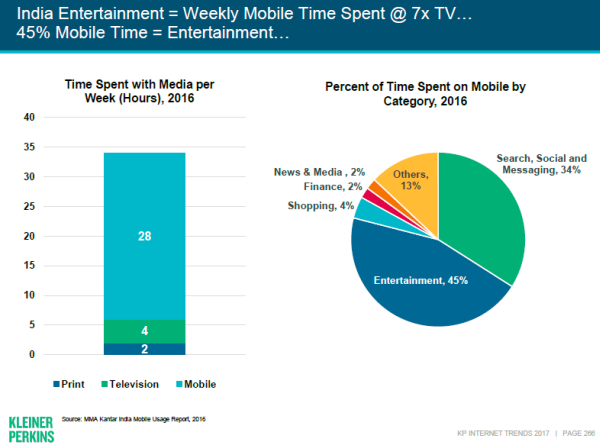 Notably,  the mobile web traffic is 80 percent, much higher than the global average. This shouldn't be surprising given the declining data costs and smartphone prices. Reliance Jio's dawn on Indian telecom landscape has been a crucial factor in driving the mobile usage.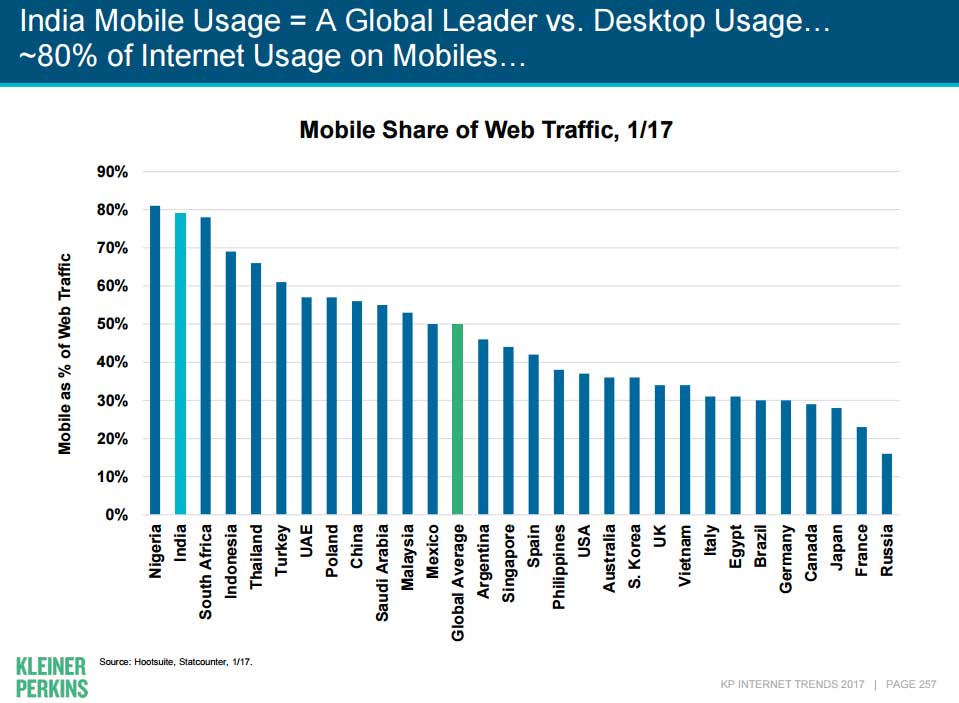 If we look at the smartphone sector, Indians spend the most time on Android phones, spending nearly 150 billion hours between 2014-2016. They are also biggest app downloaders from Google Play Store with more than 6 billion downloads between 2014-2016.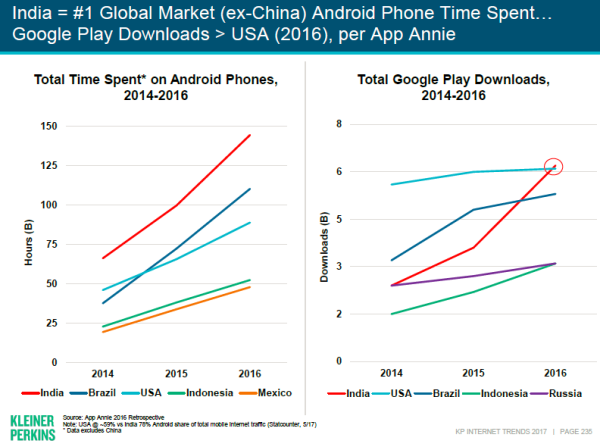 In terms of smartphones shipments, the graph once again saw an upward trend after a slowdown last year, growing by 15 percent year-on-year in Q1 2017. Total mobile phone shipments also grew by 6 percent in Q1 2017. It had dipped by 3 percent in 2016 and by 2 percent in 2015.
Not so surprisingly, it's the Chinese makers who are ruling the roost in this segment with significant market share. While Indian vendors like Micromax and Lava are seeing a decline in their share, Chinese companies like Xiaomi, Vivo and Oppo have increased their share exponentially.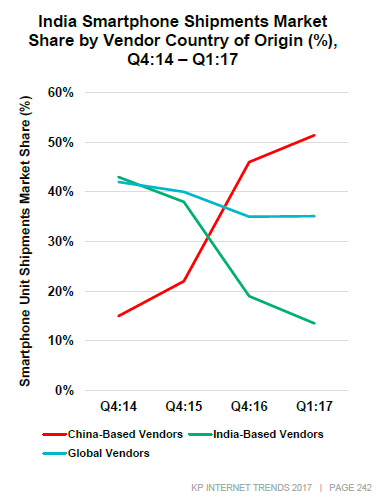 While most of the facts from the report have been known to us, Indians' love for entertainment more than social networking was a reveal not many expected. This would surely push Netflix and others to focus more on Indian viewership.