Game Of Thrones spoilers being used to spread malware
By :
CIOL Writers
|
August 27, 2017
0
While Game Of Thrones' finale leak fears have been lurking around since last Friday, when HBO hackers – Mr Smith, revealed that they sold over 5 TB of HBO's data to three customers in the deep web market (an underground online
market inside a hidden private internet), a report from  cybersecurity company Proofpoint now says that GOT spoilers are apparently being used to spread malware to unsuspecting users in a "targeted email campaign."
"The malicious attachment, which offered salacious spoilers and video clips, attempted to install a "9002" remote access Trojan (RAT) historically used by state-sponsored actors," the report said.
Researchers at Proofpoint first saw an e-mail on August 10, that read "Wanna see the Game of Thrones in advance?" Besides some general details of upcoming episodes, there was a Microsoft Word attachment in the mail too with malware hidden in it, which once downloaded would have tried to install a "9002" remote access Trojan (RAT).
Apparently similar attacks in the past have been linked to Chinese government and it could be the same this time too.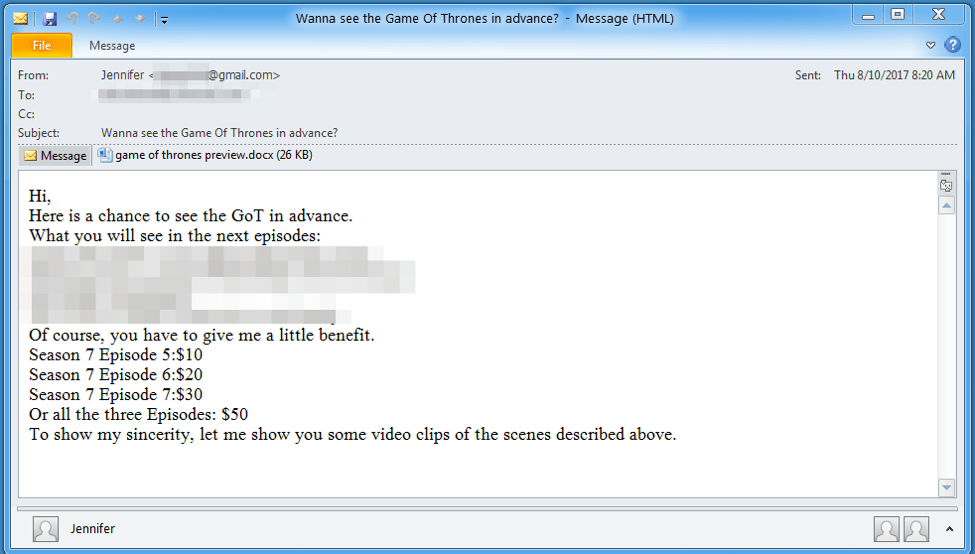 HBO has been at the centre of one of the worst cyber-theft in recent years with hackers reportedly stealing 1.5 terabytes of data from the channel, including yet-to-be-aired episodes and scripts, future technology plans and CEO's Contact list.
Proofpoint notes that the HBO breach and the malware aren't necessarily related. Hackers in the latter case are merely cashing upon the opportunity provided by the former and playing upon people's curiosity around GOT.